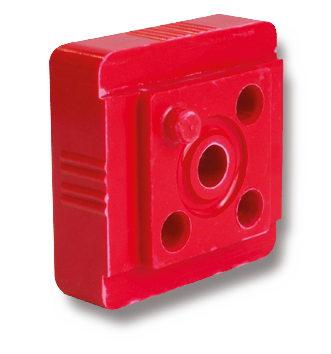 The universal rodholders PU in assembleable blocks resolve in a rational and cheaper way the problems of connection with nude rods.
For thickness of mm 4-5-6-7 use block PU1 and block PU2.
For thickness of mm 8-10-12 use two blocks PU2.
For two parallel rods of mm 8 use a block PU1, a block PU3 and a block PU2.
For two rods of mm 10 use two blocks PU2 with inserted a block PU3.
Technical parameters
Discharge tension at 23 o C / 20kV
Mechanical resistance/ 3800 kg
Dielektric resistivity at [23oC]/ 22kV/mm
Dielektric resistivity at [120oC]/ 23kV/mm
Material / Polyglass polyester
Operating temperature /: -40 - +130 oC
Fire reaction / Class UL94-VO
Operating voltage /1000V
Mouting arrangement:

For rodholders at one rod for phase
With rods of
Type
Side
Type
Side
Screw
 
mm 4
PU1
O
PU2
IIII
10.10.1970
mm 5
PU1
I
PU2
IIII
10.10.1970
mm 6
PU1
O
PU2
III III
10.10.1970
mm 7
PU1
I
PU2
III III
10.10.1970
mm 8
PU2
IIII
PU2
IIII
10.10.1970
mm 10
PU2
IIII
PU2
III III
10.10.1970
mm 12
PU2
III III
PU2
III III
10.10.1970

For rodholders at two rods in parallel for phase
With rods of
Type
Side
Type
Side
Screw
 
mm 8
PU1
O
PU2
III III
10.10.1990
with inserted a block PU3
mm 10
PU2
III III
PU2
III III
10.10.1990
with inserted a block PU3